Disclaimer: This post may contain affiliate links, which means we may receive a commission, at no extra cost to you, if you make a purchase through a link. As an Amazon Associate I earn from qualifying purchases. Please see our full disclaimer for further information. If not otherwise stated, all prices are intended in US$.
Family villas in Bali are a great accommodation option when travelling with a baby, toddler or older kids. Marlieke, with over 10 years of experience in the hotel industry in both South-East Asia and Europe, shares why, including her recommendation of Nakula being a top choice for tourists and local families.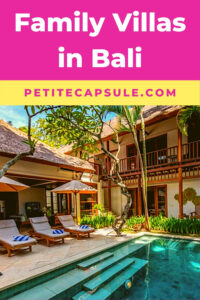 About Bali
Bali has virtually every kind of natural beauty – from pristine beaches and volcanic mountains to magnificent temples and stunning modern architecture. Balinese culture is one of the few special ones whose identity and authenticity have been maintained over the years. With the unique mix of the venerated Hindu-Dharma and civilised local customs, Bali promises a unique and memorable experience. Moreover, it is home to over 4 million lovely and friendly people, which is one of the reasons why tourists keep coming back.
Why Bring Your Kids to Bali?
As a mum, your primary concern is always about the welfare of your children. That is why you prioritise their safety and wellbeing in choosing a holiday destination. Having your children tell you they had the best time of their lives during the vacation is the best validation you can get as a parent. Therefore, do not think twice about booking Bali as your destination of choice. It is one of the best places to travel with baby, toddler and kids and Asia.
Bali is generally a safe place to be in. Balinese people love children, so you can make certain they will get enough positive attention from locals. Bali also has a lot of family-friendly activities your little ones will absolutely enjoy.
Stay With the Kids in Family Villas in Bali
Being a parent means always wanting what's best for your children. You want to ensure you don't get this decision wrong because it spells a lot of difference in the entire impression of your kids about the whole trip. So for your family vacation home, choose a family villa from Nakula.
They have villas in Jimbaran and Nusa Dua; both are strategically located to make the most of your stay without feeling overly drained. Jimbaran and Nusa Dua are two of the top tourist destinations in Bali, so it will be like living within the reach of captivating tourist spots.
Why Stay in a Nakula Family Villa?
Recognised as the best villas across Bali, Nakula sees to it you get to have the best experience there is. Below are a few reasons why Nakula villas are the top choice of tourists and locals alike.
Affordable villas that fit the whole family
Although being on a vacation, you don't want your family to be cramped up in a tight hotel room with noisy neighbours. As much as possible, you want them to feel they are just within the comfort of your home. Thus, you should book a villa. Nakula offers villas that fit the whole family at a very affordable price. Be wary of 'waking at the wrong side of the bed' by the exclusivity that Nakula villas provide.
Private pools and outdoor gardens for your kids to play
Kids are naturally playful. They enjoy running around, chasing each other, or merely exploring their surroundings. As a mum, it is your duty to give them a friendly and safe place to play. That is why we suggest you book a villa. Villas have pools where your children can play in. You may also organise water activities for the whole family, so you can have a worthwhile time to bond and have fun.
Villas also have outdoor gardens where your kids can hang out. This is a good activity for your kids because it allows their imagination to work. By letting them play outside, they also become much more aware of the environment they live in, and in turn, they develop into more responsible individuals.
Family-friendly services, including a butler, nanny, in-villa massage, and cooks
Just because you're on a family vacation, doesn't mean you have to stress about always looking after your kids or address your family's needs all the time. Live the life of royalty by booking a villa as your holiday home place. Enjoy family-centered services, like having a butler to serve you, day in till day out.
Their services also include providing a nanny to look after your kids while you enjoy even brief "me-time" with yourself or with your spouse.
Aside from that, one of the perks of staying in a villa is availing yourself to an in-villa massage. Tours and adventure trips may be stressful for your body. That's why it would be perfect to avail oneself of a whole-body massage to relieve muscle stress.
On top of all that, you will also have your own cooks. All you need to do is to sit by the dining table whenever your hunger strikes and they will cook you anything you want to satisfy your hunger. Now doesn't that sound queenly?
Pool fences available
For additional safety measures, you may organise pool fences to be installed around the pool. This grants you a state of peace of quiet knowing your kids are far from any untoward incident to happen. Just make sure to request this from the villa staff before your scheduled arrival so everything will be in its proper order as you check-in.
In conclusion, you don't have to worry about whether your kids will love Bali or not. With everything that you can see and do in Bali, it is guaranteed your entire family will have a special fondness for this tourist destination.
Villa rates start from USD 50 per night, including breakfast. Get the best value for your money without having to go over your budget.
Author Bio
As founder and managing director of Aureum Hospitality Advisers, Marlieke Kemp-Janssen provides revenue management and digital marketing solutions to hospitality companies like Nakula. She has over 10 years of experience in the hotel industry in both Europe and South-East Asia.
Nakula Hospitality Management is a villa management company in Bali. It was founded by two ex-management consultants with vast experience in the industry. The ever-growing villa assortment offers ideal vacation accommodation for travellers to Bali. You can connect with Nakula on Facebook and Instagram.