Disclaimer: This post may contain affiliate links, which means we may receive a commission, at no extra cost to you, if you make a purchase through a link. As an Amazon Associate I earn from qualifying purchases. Please see our full disclaimer for further information. If not otherwise stated, all prices are intended in US$.
Today I'd like to introduce Elizabeth from Simple Tender Joyful. Using her experience of travelling with baby and toddler, she has compiled some super handy tips on how to have a great family holiday. Enjoy!
You can also read mum of three, Leslie's, six secrets to travelling peacefully with a toddler, Alia's tips for travelling with two toddlers overseas, and what Lucy learnt from her first holiday with baby.
Ahhh, the elusive great family holiday.
Is it a myth? A rare unicorn of an event? As likely to happen as actually loving your haircut on the day you get it?
Sure, we've all heard about other people having a fantastic family trip, but that couldn't happen to us.
Could it?
Yes, Virginia, it does exist!
When I travelled before kids, I packed my days full of tours, sights, workshops, and wanderings. I stayed up late, woke up early, and laboriously poured over guidebooks to make the most of my travels.
That kind of trip just won't fly with kids. Sure, by all means, give it a shot, but it likely won't be enjoyable.
So what's the secret sauce to creating lovely family memories when you're exploring?
These ten tips will help you come up with ideas for your next family adventure while ensuring that even the littlest travellers have a fantastic experience.
Choosing Family-Friendly Destinations
No, you're not stuck with Disney World for all your family holidays.
I'm a firm believer that practically any destination can be family-friendly, as long as you prepare. That said, you're more likely to enjoy yourselves if you choose a location with kid-friendly (and parent-friendly!) amenities.
Second, it's worth taking the time to come up with some basic travel goals before you choose a destination, just to make sure your trip will be worth your hard-earned dollars.
Last, whenever I'm planning a family trip, I always keep in mind three key elements: comfort, safety, and fun. As long as we're hitting those three things, I know we're set for a great family holiday.
Tip #1: Determine your holiday goals
I know, I know, holidays are supposed to be fun. So what am I doing talking about goal setting? But it's worth taking the time to come up with some basic travel goals before you choose a destination, just to make sure your trip will be worth your hard-earned dollars.
All you need to do is take a few minutes to chat with your partner or family members about what they're hoping to get out of the trip. Is this primarily a trip for relaxation? Then you won't worry about finding destinations with lots of local sites to visit.
Are you hoping to learn something new or experience a new culture? Then you might want to avoid some of the big resort destinations (which are little more than cruise ships-on-land, in my humble opinion).
Take a few minutes to jot down what you'd like to get from your trip. Here are some ideas to get you started. I'm looking to take a trip that involves:
educational opportunities
cultural immersion
language learning
relaxation
healing
family connection
time in nature
adventure
quality time with my spouse
new experiences
delicious food
Tip #2: Choose a destination with kid-friendly amenities
Look for locations where kids will have the opportunity to run around at some point – beaches, nature parks, hiking trails, kid-friendly museums, and theme parks are obvious wins. But you can also make use of parks or playgrounds close to your hotel. In winter or bad weather, research public libraries near your lodging, which often have fun playrooms for little ones.
There are a lot of toddler friendly holiday destinations in the United Kingdom.
Of course, you can still visit more traditional "adult" destinations (Paris, anyone?).
Or perhaps a wine tour. Do some research and see if the winery is suitable for families, like those in the Coonawarra Wine Region.
But after a few days of museum-hopping or concert-going, keep in mind that even the most well-behaved kid is going to need to burn off some steam.
Tip #3: Choose family-friendly accommodation
Choosing the right accommodation will make or break your trip with kids – seriously. When we're travelling as adults, it's easy to see a hotel room as just a jumping-off point for our adventures. But when it pours during your entire your trip to Puerto Rico and you're stuck in the hotel the entire time (true story), you want to make sure that your accommodation will provide entertainment and relaxation (or adventure, or delicious food, or whatever else was your goal for the trip).
Best Option: Airbnbs
My first choice for family-friendly accommodation is Airbnbs. Mainly so I can put the kids to bed and then hang out with my hubby after they're asleep. We also like to choose Airbnbs with some sort of built-in entertainment, like a pool, or proximity to nature trails, or even just close to restaurants and city sights. This makes entertaining the kids simple, without the need for pricey excursions or figuring out car seats in taxis just to grab some lunch.
Keep in mind that many Airbnbs in developing countries often include housekeepers or groundskeepers, thereby mitigating the downside of needing to cook or clean for yourself while on holiday. Even if this requires a small extra fee, consider building this into your budget so you can spend more time with your family and less time worrying about dishes.
Airbnbs are also a great way to way to save money on accommodation.
Family-Friendly Hotels
If we can't find an Airbnb that meets our needs, we look for affordable hotels with suites. You can get creative here. We flew to Cartagena, Colombia, with our four-month-old, and suites just weren't an option in that city. But we did find a room with a garden terrace (and a plunge pool!) where we could relax and enjoy a glass of wine after the baby was in bed. It would have been an entirely different trip if we were stuck huddling in the dark over our iPads in utter silence by 6pm every night in an effort to maintain baby bedtime.
If a suite isn't in the budget, then consider getting a room on the first floor and bringing a wifi-compatible baby monitor. You can put the kids to bed and then hang out in the lobby with the baby monitor. As long as you can get back to the room in less than 60 seconds (more or less), you're good.
Staying with Family
The same principles apply to staying with family – get creative with sleeping spaces and designate a "grown-up" zone for after the kids are asleep (while being mindful of your generous host, of course!). Our babies have slept in home offices, pop-up tents, a well-ventilated closet, a media room, and a bathroom during past visits to family. As long as there's good airflow and the baby monitor is connected, it works great for our family.
Tip #4: Allow downtime
Remember new experiences – even good ones – can be stressful. Kids (and adults) need downtime to process and recuperate before another day of adventure. There can be a lot of pressure to "make the most" of your trip. But if you pack the schedule so full everyone is exhausted, you're not getting the most out of the trip. While the occasional late night can be a lot of fun, make sure to balance those evenings out with more low-key days.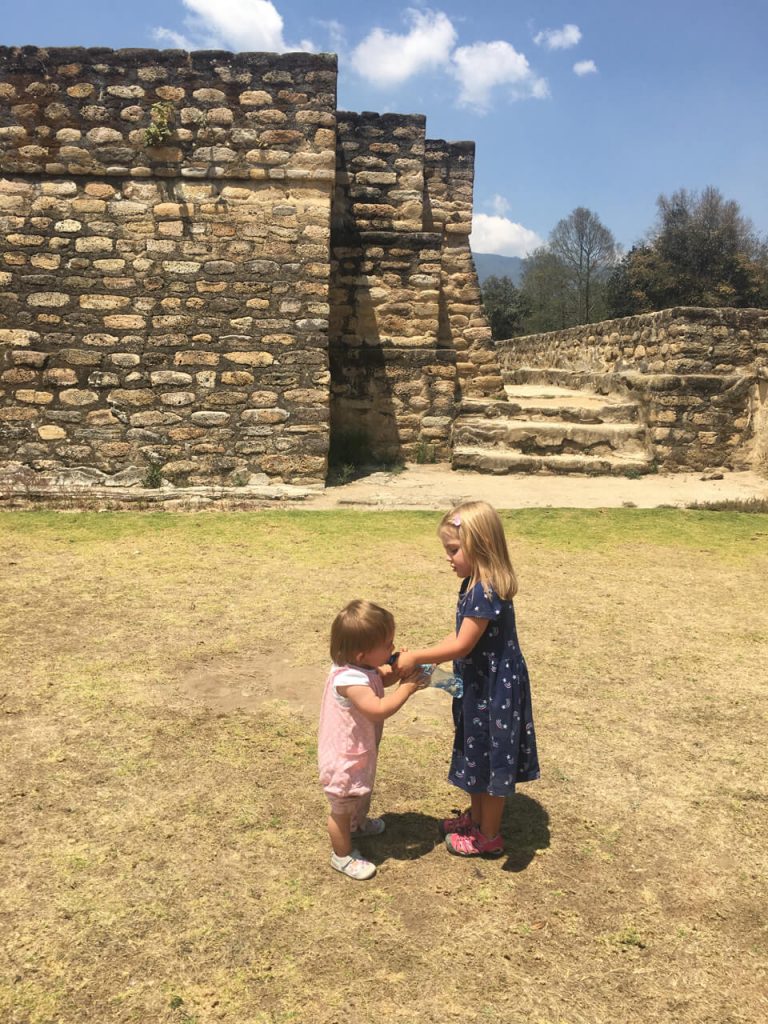 If you're out at a fireworks show on Monday, plan a lazy morning on Tuesday. If you spend Wednesday touring museums, then give the kids an hour to play, run around the playground, or just vege out with a movie before dinner that night. By allowing for downtime, your kids will have more energy (and fewer tantrums) when you're ready to venture back out.
Tip #5: Create a kid-safe space
When choosing accommodation options, keep in mind most locations – be it an Airbnb, a hotel, or a generous family member – won't be baby-proofed.
As you survey potential accommodation, consider stairs, wood-burning stoves, fireplaces, ungated pools, or proximity to lakes or oceans. While you won't be able to prepare for every eventuality, it's worth taking the time to choose a space where you won't have to hover over your toddlers for the entire trip.
During our recent trip to El Salvador, our incredible Airbnb featured an ungated pool out on a slick deck with no railings of any kind, with a precipitous drop into a lake if you happened to go over the edge.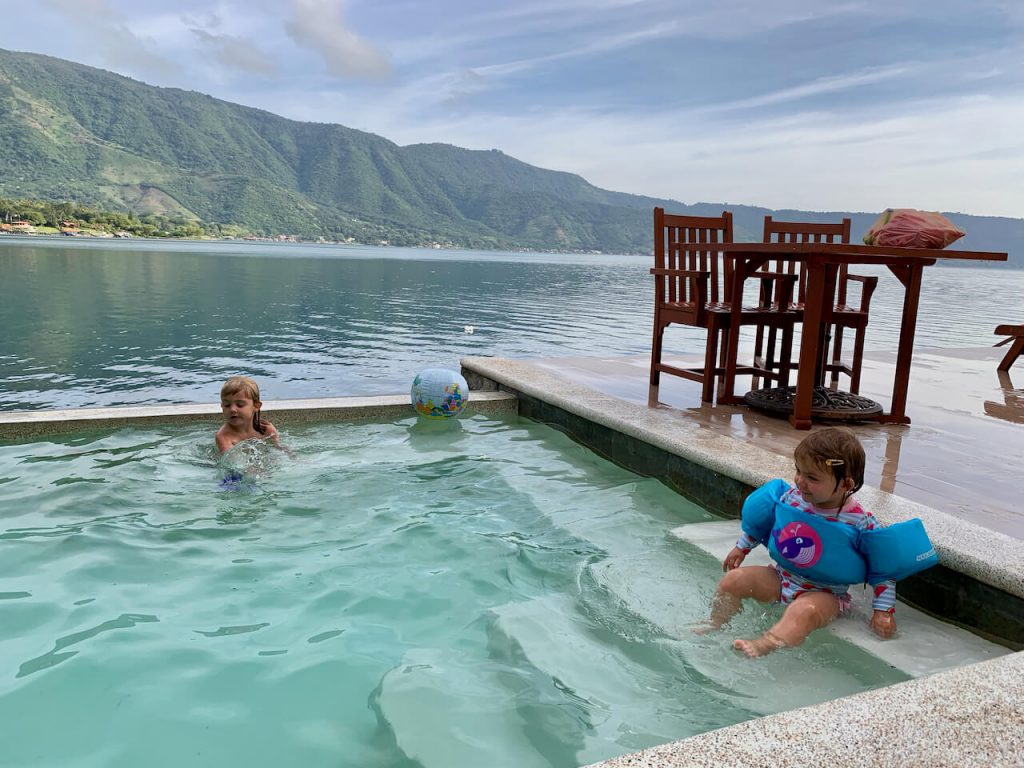 I had to follow my one-year-old around at arm's length for three straight days AND I kept her in a life jacket 90% of the time (even for meals). It was not the relaxing lake vacation I had envisioned (even if it was a tonne of fun).
Tip #6: Create a quality sleep environment
I'll admit, I'm a terrible over-packer. But I've never regretted bringing a few key comfort items, particularly related to sleep. We always bring a white noise machine, the kids' favourite lovies, and the sleepsack for the baby.
If you have a light sleeper, check out portable black-out curtains. But I'll be honest, I usually just find a spare blanket and tuck it around the window using binder clips. In a pinch, you can even duct-tape up some black garbage bags to create a black-out curtain (as long as the plastic is completely out of baby's reach!).
Tip #7: Skip the toys
While I'm all about bringing comfort items to ensure that everyone gets a good night's sleep, I don't recommend bringing a tonne of toys, especially when travelling by plane. Most kids will find plenty to do, even in a minimal hotel room.
When we travel, my kids are allowed one small backpack. And here's the kicker – they have to carry it themselves. They can fill their backpacks with whatever they like – dinosaur figurines, sticker books, a puzzle, a few books, their kindle. That's it. I make them practise wearing it around the house so they're sure they can handle them at the airport.
The only caveat is I do make sure they have at least one rainy-day activity (like a sticker puzzle, or a pack of watercolours and paper), but other than that, we do not bring many toys with us when we travel.
Tip #8: Invest in a quality travel gear
There are a few travel items that can make a trip go so much more smoothly. Particularly if you plan to travel a few times a year, it's worth investing in a few key pieces of travel gear.
Travel Crib
When it comes to sleeping gear, we love our Guava Lotus Travel Crib (and we're not the only ones – parents rave about this crib).
It's only 13 pounds, it packs down super small, and it is very easy to set-up. The included mosquito net is great for our tropical trips, and I've used the bassinet insert as our full-time co-sleeper during extended trips with new babies.
Consider travel cot hacks to turn the travel crib into a playpen and ball pit.
Travel Car Seats
I highly recommend bringing your car seat for plane travel. Not only is it safer to keep your kid in a car seat on the plane, but it keeps you from getting stranded at the airport with two kids at 10 pm, by yourself, with no car seat and no way to get home (not that I speak from experience or anything ?).
Even if your child doesn't have a seat on the plane, it's still worth it to check your car seat. Just think about what your baby does inside their car seat on a day-to-day basis (read: blow out diapers, ground-in granola bars, car sickness). Do you want a used car seat from the rental car place?
If your baby can still fit safely in their infant car seat (check the height and weight limits in the manual), then life is simple — just bring the infant seat without the base.
However, if your kids have outgrown their regular infant car seat, then I also recommend buying car seats specifically for travel. Trust me, you do NOT want to lug your 60-lb convertible car seat or booster seat on vacation. There are several very affordable light-weight options, like this one or this one.
For more ideas about what to pack when travelling with kids, check out my tips for flying with toddlers.
You may also want to consider a CarGoSeat, a booster seat that transforms into a luggage case, or a lightweight double stroller.
Tip #9: Create a kid-friendly itinerary
You don't have to make a trip all about the kids to have a great family vacation. I believe the best trips have something for everyone in the family — what mum or dad wants matters, too! There's no need to martyr yourself by sitting through a thousand iterations of the "It's a Small World" ride at Disneyland, even if your kid loves it. That said, everyone is likely to enjoy themselves more when the itinerary is kid-friendly.
Consider activities the whole family will enjoy, like strawberry picking.
A tip for travelling with kids before you go is to shortlist places of interest for your baby and toddler. Share it with them, and let them pick the places or activities they like. Then add those to the itinerary.
You may want to stick to a routine. It was one of three things, Nicola, mum of two, wished she did differently on her first holiday as a family of four.
Find a Balance That Works For Everyone
To accomplish this, you have to accept that you might not be able to see everything or do everything during a single trip. For example, a trip to Paris might feel incomplete without a visit to the Louvre. But if you have a toddler, it might just be too stressful to worry about waiting in long lines or keeping them from touching off-limit valuables. And ask yourself — will I even enjoy myself if I'm constantly chasing after a handsy two-year-old?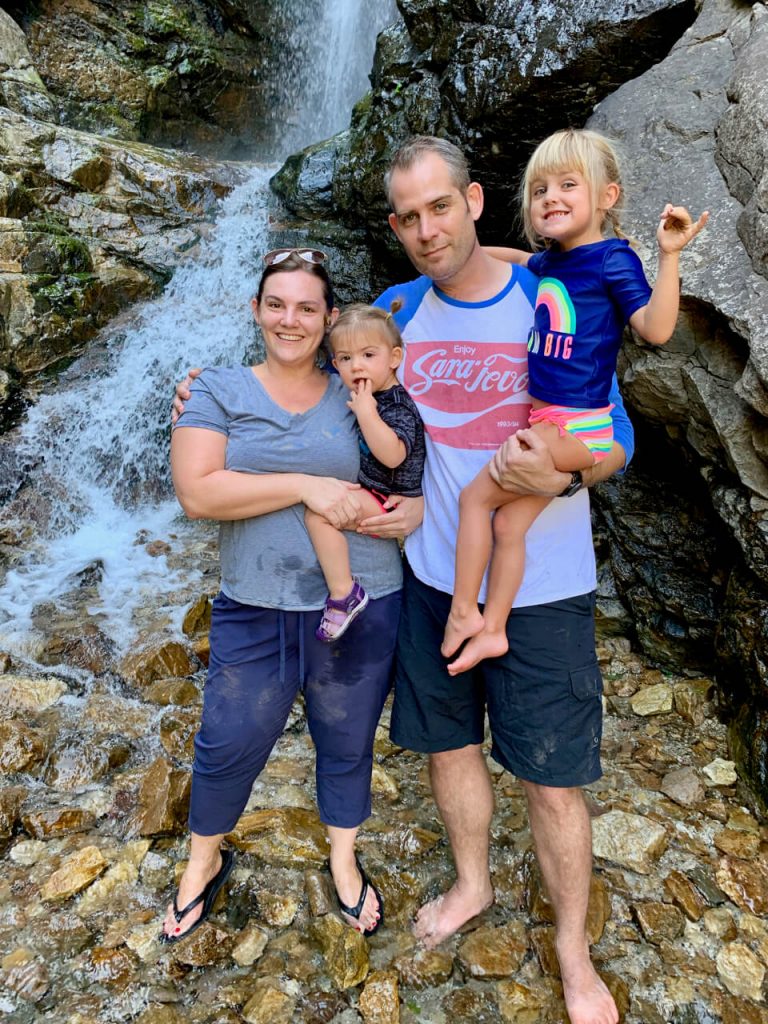 Choose excursions that won't stress you out too much, and bookmark anything that falls under the category of "too hard" for a return visit down the road. Alternatively, look into childcare through your hotel or through a reputable local provider to give mom or dad a chance to see the grown-up sites.
Don't get me wrong, we book plenty of tours and go to lots of museums during our travels with kids. But we limit ourselves to one scheduled excursion per day, and let the rest of the day just flow based on how everyone is feeling.
We also steer clear of anything we know will be too stressful for us to wrangle. Additionally, we also look for opportunities to let the kids run around, particularly if we also plan to visit a site that will require them to sit still.
It's all about bookending high-energy outings with low-energy or kid-friendly activities.
Tip #10: Keep a sense of humour
Even with great planning, awesome lodging, and beautiful weather, sometimes things just don't go according to plan. Kids will have tantrums (there are gentle ways to calm toddler tantrums). Babies will cut teeth or develop an ear infection, keeping everyone up at night. Someone will forget their passport back at the hotel, and someone else will forget to put on sunscreen at the beach, leading to epic sunburns just before a much-anticipated couples' massage (again, not that I speak from experience…).
It happens.
Instead of worrying about when things don't go according to plan, think back to your vacation goals. Are you travelling with the hope of learning new things? Having family time? Finding adventure or relaxation? Keep that ultimate goal in mind, and then adapt.
If your relaxing beach vacation is rained out, then declare a movie marathon with popcorn and ice cream sundaes.
If you realise too late that your kids can't possibly look at another historical site during your educational trip to Europe, then look for other learning opportunities — cooking classes, nature walks, or free time on the playground, where they can meet local kids.
And for those inevitable trips where everything goes wrong (been there!!), then do your best to make a joke about the whole thing, with the knowledge that this will make a hilarious family story down the road.
I don't expect all of our family trips to be magical, particularly since our kids are so little. I figure that if even 50% of our family excursions are successful, then that is 50% more adventure than we'd have if we just stayed home all the time.
Bonus tip: Before you fly, read up on what to expect when flying with baby and how you can make flying with a toddler less stressful.
Any Trip Can be Family-Friendly!
While it can be stressful to travel with kids, the benefits absolutely outweigh the negatives. Don't let fear keep you home — with these ten tips in mind, you'll be ready to pack your bags for your next fun-filled family adventure.
Bon Voyage!
Author Bio:
Elizabeth provides motivation and inspiration to families who are interested in worldschooling and learning through travel. She is a former ER nurse who now blogs about homeschooling, intentional living, parenting, and life overseas on her website, Simple Tender Joyful. Elizabeth is a "trailing spouse" who currently lives in Guatemala City with her Foreign-Service husband, her four-year-old, and her one-year-old baby. In her free time, Elizabeth enjoys reading sci-fi novels until the wee hours of the night and going on potentially ill-advised road trips with her kids.
Website | Instagram | Facebook