Disclaimer: This post may contain affiliate links, which means we may receive a commission, at no extra cost to you, if you make a purchase through a link. As an Amazon Associate I earn from qualifying purchases. Please see our full disclaimer for further information. If not otherwise stated, all prices are intended in US$.
Being a new mum is a tough job. There's no manual, guidebook or standard operating procedure to follow. The best way to forge ahead on your new adventure called motherhood, is to get advice mum to mum. You can call your mum, sisters, friends, or check out these new mum blogs, including mummy bloggers UK and Europe, mummy bloggers Australia, working mum blog, and family travel blogs. Hope you find this mummy bloggers list useful.
New Mum Blogs
The Thoughtful Parent is a parenting blog that strives to bring child development research into the lives of parents in a way they can actually use. They provide articles about the latest child development and parenting research in a parent-friendly, approachable format. Written by a mum with a Doctorate in Human Development and Family Sciences, this blog provides parents with useful information on topics like infant development, toddler development, motherhood challenges and positive parenting approaches. The goal of the blog is to help parents learn to balance child development knowledge with their own parental intuition to make the best parenting decisions they can.
Birth Eat Love is a website that is on a mission to help new mums figure out what to eat during pregnancy, postpartum and while breastfeeding. Healthy eating doesn't have to be stressful. This site shares recipes, meal plans and healthy eating tips just for Moms no matter what stage of motherhood you are in.
New mums can find healthy pregnancy recipes and clean eating meal ideas for every trimester. There are some great resources for learning how to prepare freezer meals for postpartum and how to stock your fridge before your baby arrives.
But perhaps the best are the articles about the best foods to eat while breastfeeding. There are many ideas for boosting milk supply with food and also delicious healthy lactation recipes.
If you're feeling overwhelmed and exhausted with all of the challenges of raising a newborn or toddler, check out the tribe at Piece of Cake Parenting, an online hub specifically designed to help new mums and dads easily find the resources and support you need to feel more confident and relaxed as a new parent.
The blog focuses on specific tutorials to handle the most common challenges of new parenthood, from figuring out breastfeeding to sharing gentle sleep tips to learning exactly how to teach your baby to blow their nose or start prepping for potty training and so much more!
If you're looking for super practical posts filled with parenting hacks you can put to use right now check out all of the resources at Piece of Cake Parenting
PregnancyLoop provides relatable answers to all the tricky questions that come up during pregnancy and early motherhood. Mum of two energetic under-5's, Stephanie is fascinated with health, sport, medicine and babies. PregnancyLoop is Steph's chance to share her own experiences (while it's still fresh in mind), and delve into topics in pregnancy, childbirth and mumming that she's passionate about. It's also a chance to very publicly keep notes for her own future pregnancies. Steph has advice about products that can and can't be used in every trimester. She talks about what are the real signs of labour and when should you go to the hospital. There are ideas for maternity wear for different occasions and body types. Steph also dives into those questions that drive you crazy, like why you're still getting 'morning' sickness in the afternoon in your third trimester! A favourite for mums-to-be on a budget, PregnancyLoop's comprehensive guide on how to get free baby product samples is a must-read.
Mummy Bloggers UK and Europe
As the Bird Flies is a blog about travel, writing and motherhood so it's not really your typical mummy blog especially as it was established long before the main writer Frankie became pregnant with her first child. In fact she never intended to write about motherhood, but as all mothers know, becoming a parent changes you forever and in surprising ways so it was inevitable that motherhood and more specifically the huge adjustment of becoming a first-time mother would feature.
This is shared on As the Bird Flies in the form of a weekly motherhood diary which Frankie wrote throughout the first year of her motherhood journey. It was a time that featured torturous sleep deprivation, inner conflicts with her new identity, and eventually a bout of post-natal anxiety and depression.
All that said, this blog is not just about difficulties of parenthood – which have included more recently the addition of another baby boy (and more sleep deprivation!) but Frankie also shares how she and her family have found a way to travel the way they want to, namely in luxury. Yes, luxury family travel is possible!
In a nutshell if you are a new mum and want to find a place where some of the highs and lows of this are shared, and you also want to see some light at the end of the tunnel in the form of planning some amazing travel for your family, As the Bird Flies is a place to find both.
Styling Life Today is a London-based, family-oriented, lifestyle blog featuring a stylish mummy and her two adorable boys portraying their lives and love for all things mummy and baby related. The blog is run by Monica who has a passion for writing, organising, planning, being productive and all things beauty and fashion related.
Monica studied Law at University and went on to become a solicitor as her "day" profession and when she became a mother to her first-born Michael in 2018, she took on the role of "stay at home mum" and decided to pursue her love for writing and helping others through her blog.
Through Styling Life Today, Monica shares her tips, hacks and, most importantly, product reviews for all mummies (and even daddies) and mummies-to-be who want to be well informed before splashing out their cash on different baby essentials, toys, beauty products and necessities. For all those shopaholics out there she provides her favourite sales and promo codes.
She continues to search for eco-friendly, safe and cost-effective brands to work with, to help other parents and ladies choose their essentials wisely. "It's always best to learn from other people's trial and errors rather than your own".
As a mum of 2 toddlers, Nassie at Snippets of Paris covers parenting from the French Perspective. The author is Canadian, but has been living in France for the past 10 years, where they do things a little differently. There are no gender reveal parties, or big baby showers, or any of the fuss that North Americans are accustomed to. French parents tend to focus on their little family, and ignore all the noise.
Parents all over the world have the same doubts and fears, and Snippets of Paris covers how parents in France deal with them. Topics include the differences in giving birth, feeding times, trying to raise bilingual multinational kids. There is a great list of French baby names as well.
A Princess Travelling with Twins is a blog for all parents or expectant parents who love to travel, but fear that it will no longer be possible once a bouncing baby joins the family. Clo, the Princess, and her husband Mark, both with full-time jobs, have not only continued to travel, but since their identical twin boys, were born, they travel even more, because children are not the reason to stop travelling. Of course, now travelling is a bit different and perhaps needs more organisation, so they have started to document all their adventures with tips and ideas to help new parents. Often what is really missing is the time to search for information to organise travel: to be sure that the place chosen is suitable for children, that there will be places to buy nappies or milk, and there are restaurants that allow kids.
A Princess Travelling with Twins will help parents to save time because they will find:
detailed itineraries with what to do, how to move around, where to stay and more tips. Itineraries tested and ready just to copy.
reviews of places with all the details of what's good or not for a family.
reviews of all the tested products that make travelling with kids easier.
Parents will soon realise travelling with children does not mean closing themselves in an all inclusive resort (unless it is your desire), but they can make the same adventurous trips as before just with a little more planning.
Twins and Travels is dedicated to helping parents with twins, multiples and families with young children – from potty training twins to travelling with twins. Anna's family of five, including 4 year old twin girls, 1 year old daughter, and hubby, started travelling as a family when the twins were weeks old and found themselves in Oxford on the set of Bridget Jones' Baby. From then on, they have been unstoppable and have travelled further abroad, trying to tick off more places from their bucket list before the twins start school.
Mummy Bloggers Australia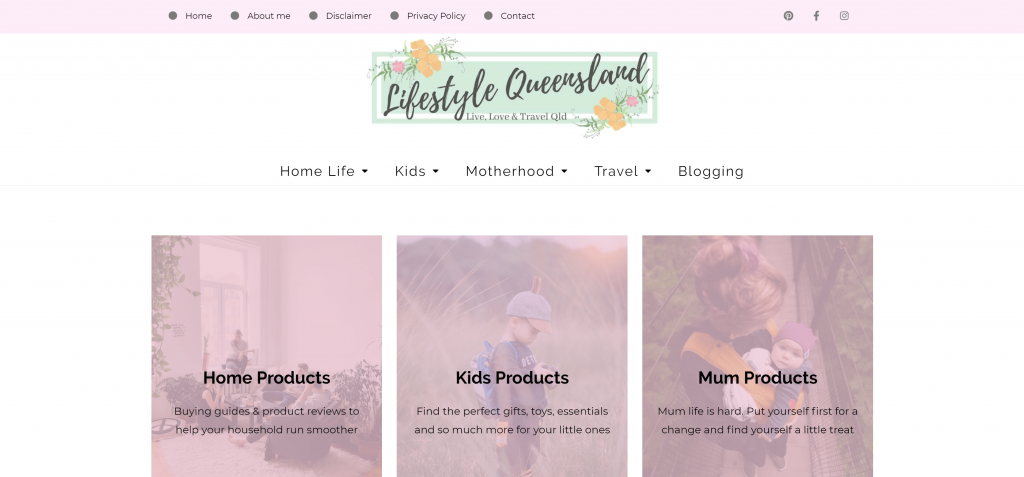 Sophie aims to save you time and money through sharing mum life hacks, product reviews and buying guides in the areas of motherhood, kids, home, and travel.
Working Mum Blog
Whitney Bonds started the website Tried and True Mom Jobs to help mums find legitimate work from home opportunities with kids. Whitney was desperate to quit her job to stay home and raise her babies but couldn't find any "real" mum jobs online to supplement her income. Out of frustration she reached out to work from home mums and interviewed them to see: what they do, how they got started, how they work from home with kids, and how much they earn. She documented everything and created her website to share their stories for mums like her. You can find in-depth articles from the mums who work from home and see how they do it along with articles on how to save money and invest.
Money Can Buy Me Happiness is a blog written by mum of two, Emma. She started writing about budgeting and living on one income when her first child was 2 and has continued to add helpful content about making money as a stay at home mum (she replaced her corporate income using these tips), frugal living tips, ideas on becoming debt-free and sharing her own journey to financial freedom.
The biggest change in her financial situation came when Emma and her husband transitioned to one income after their first baby arrived. Going from two wages to one is a shock to the system for anyone. Emma's top tip – use your pregnancy as a trial run to figure out living on one income. Estimate how your finances will look when the baby arrives and start to live on that amount as soon as you can. This means you can save a cash cushion in the lead up to birth and the change won't be so harsh after the baby arrives. Using this strategy, Emma and her husband were able to save enough money to take a trip from Australia with their new baby to visit family in Ireland.
Family Travel Blogs
The Family Adventure Project is a blog and mission by Kirstie Pelling and Stuart Wickes to encourage themselves and others to explore and adventure as a family. Across two decades they have undertaken big and small adventures with their three children; everything from cycling across New Zealand to exploring their own back yard by micro-scooter. If you want to get out more into the great outdoors with the kids, this blog is worth a read.
Their posts look in detail at how to grow young adventurers and why adventure builds strong family bonds, but also show families how to travel at every stage of their children's lives. Whether you are interested in subjects like which bike to buy for your kids (from babies to tweens and beyond) or how to do an interrail adventure of Europe as a family, you'll find something to entertain and inform.
Travel Car Seat Mom is the internet's only dedicated resource to helping parents understand the ins and outs of travelling with their child's car seat. You'll find in-depth information on how to choose the best car seat for travelling, the merits of renting a car seat, what you need to know about Uber and car seats, and real-world hacks for transporting your car seat through the airport (and beyond). As a new mum, you won't want to miss 10 important rules for flying with a car seat.
The website's author, Melissa, has been flying with her children (and their car seats!) since they were just 2 months old. Now eight years later – including two years of full-time travel – she's become an expert on this important aspect of travel safety for children.
Travel Gear for Kids is a family travel blog that aims to help brand new parents who love to travel. Its main focus is travel equipment for children age 0-18, but there's a whole section dedicated to general family travel tips as well.
New mums are often overwhelmed when they think about travelling with their baby and what they should bring along for baby's first trip. Travel Gear for Kids doesn't test all the products themselves, because the opinion of one person is too subjective. That's why the website analyses hundreds of reviews online to determine the top products for young parents. That way you don't have to spend hours online to find the best travel stroller or the best travel high chair. Because we all know how little time there's left when you have a small child at home.
Apart from that typical travel gear, there are also more general products such as the best summer baby carrier and the top playpens for at home and away. And when your baby gets bigger, there's a whole section about travelling with a toddler that you might be interested in.
What other mum blogs do you follow? Share them in the comments below. 🙂