Disclaimer: This post may contain affiliate links, which means we may receive a commission, at no extra cost to you, if you make a purchase through a link. As an Amazon Associate I earn from qualifying purchases. Please see our full disclaimer for further information. If not otherwise stated, all prices are intended in US$.
A lot of people say you should travel before you have kids, because you can't when you do have kids, and to especially stay away from Asia. I disagree. Before my little one turned two, he had already travelled to four countries, three of which were in Asia. (Yes, he is very lucky to have parents that love to travel. Mind you, the first time I went overseas was when I was in my twenties and I paid for it by myself). Though some destinations are more baby friendly than others. I'll share with you what I think are baby friendly travel destinations in Asia. I also reached out to some awesome travel and mummy bloggers and asked what they think is the best place to travel with baby in Asia. If you can't travel, you can instead pretend to travel to Asia.
Japan – Best place to travel with baby in Asia
Japan is the standout winner of being the best place to travel with baby in Asia as it is extremely baby-friendly. It is a safe and clean country, and the people are super friendly and helpful. You can drink the tap water too, which makes cleaning baby's bottles and toys much easier. A lot of Japanese food is suitable for babies and toddlers. Foods like udon, ramen, and okonomiyaki, are soft and go down easy.
Traditional Japanese ryokan accommodation is great for babies. The tatami-matted rooms add cushioning between baby and hard floors for tummy time, rolling, crawling, walking and falling. Ryokan bedding is in the form of futon beds on the ground, so you can keep baby's travel cot close, making it easier for you to settle baby.
Japanese department stores are generally baby-friendly. They have baby change rooms with change tables and private breastfeeding rooms. The Japanese are conservative and breastfeeding in public is not common. As such, best to use the private breastfeeding rooms or a nursing cover.
Baby food and supplies are also readily available from pharmacies and supermarkets. Keep in mind, cities are well stocked compared to small towns and remote regions. If you are visiting the latter, ensure you have enough supplies just in case.
Babies will enjoy exploring the interesting Japanese castles and temples. Himeji Castle is the best preserved castle. Osaka Castle and Nagoya Castle are fantastic reconstructed castles. Popular temples include Kinkakuji Temple (Golden Pavillion) and Kiyomizu-dera Temple in Kyoto, Todai-ji Temple in Nara, and Senso-ji Temple in Tokyo.
Babies will love the beautiful Japanese gardens. The best gardens in Japan include Kenroku-en in Kanazawa and Shinjuku Gyoen in Tokyo.
Japan is a baby-friendly travel destination, that will keep going back again and again.
Singapore
Singapore is one of the best places to travel with baby in Asia. Firstly, it is a very safe and clean city because there are strict laws and penalties for things that are legal or minor offences in Australia. For example, chewing gum, littering, smoking in public places or restaurants. You can also drink the tap water, which makes cleaning baby's bottles much easier.
The public transport is fantastic for getting around to attractions, particularly the train, also known as the MRT or Mass Rapid Transit. It is an extensive network with frequent trains and cheap fares.
There are a lot of free attractions in Singapore that babies would love. Gardens By The Bay has colourful plants and lights up at night. The Singapore Botanic Gardens has plenty to see, do, play, and learn. Jacob Ballas Children's Garden in the Singapore Botanic Gardens has a playground, maze, water play area, treehouse, suspension bridge, pond, cave, farm garden, and fruit orchard. Baby will love the light show at Marina Bay, as well as seeing the monkeys along the Treetop Walk at MacRitchie Reservoir.
Food in Singapore is delicious and super cheap. You can eat a Michelin meal for $5 SGD – soy sauce chicken rice at Hawker Chan. Hawker Chan is a food stall located in the Chinatown Complex hawker centre, which is the largest hawker centre in Singapore. Hawker centres are the best places to get tasty cheap street food in Singapore. Be sure to also try these hawker centres: Satay By The Bay, Maxwell Road Hawker Centre, and Lau Pau Sat (also known as Telok Ayer Market).
There is also a range of accommodation to fit you budget. From hostels to luxury hotels. Singapore is a fabulous place to visit when travelling with baby and toddler.
Taipei, Taiwan
By Nick Kembel of Spiritual Travels
Taipei, the vibrant capital of Taiwan, is arguably one of the most baby-friendly cities in Asia. The city regularly ranks as one of the safest in the world, as well as one of the best for expats to live in. So what exactly makes it such an ideal place for the little ones?
For starters, Taipei has loads of things to do with kids. For babies, there are government-run and private indoor playcentres as well as outdoor playgrounds all over the city. One of our favourite things to do when our kids were very young was to rent a private hot spring room in Beitou, Taipei's own thermal hot spring village, so we could control the water temperature and enjoy the thermal waters with our kids in privacy.
Second, Taiwan has one of the best public transportation systems in the world, notably the super efficient & clean Taipei MRT. With dedicated seats for the needy, elevators everywhere, and friendly passengers always willing to give up their seat to parents with babies. Using the MRT to get anywhere in the city is a breeze.
Last but not least, Taiwan has a great public health care system. My wife gave birth to our two kids in Taiwan, where they have excellent maternity centres and women can choose to stay for a few days to one month to recover. Whenever our kids got sick, we seldom had to wait more than a few minutes to see a doctor, and any prescriptions cost a flat rate of about 5 USD.
Our favourite hotel in the city for a family stay was the Grand Hyatt Taipei. We were once invited to take part in their "luxury camping in the room" experience designed specifically for kids.
Beijing, China
By Corritta from It's a Family Thing
Beijing was our first international vacation with our 4.5 month old son and it was amazing. Although there was a language barrier everyone was happy and excited to see our little one. They offered to hold him and even soothed him while at breakfast on our way to The Great Wall of China.
If your little one is small enough to fit in a carrier you can enjoy all the city has to offer. We spent time touring The Forbidden City, Temple of Heaven, Summer Palace, Lama Temple, Hutongs, and Jingshan Park.
We booked two hotels during our stay to see different parts of the city. Hotel Kapok was near the Forbidden City, Tiananmen Square and the Chinese National Museum. We were able to walk to a lot of the destinations and take in the city. Our second hotel was a lot further away from all of the attractions. The Hotel Eclat is an upscale luxury boutique hotel inside a popular mall. The hotel was phenomenal, it even doubled as an art museum and was the perfect place to relax. There was a crib available and they even allowed us to store our breastmilk in their industrial freezer. If you are considering travelling to Beijing with your little one, you will not be disappointed.
Bali, Indonesia
By Ariana from World of Travels with Kids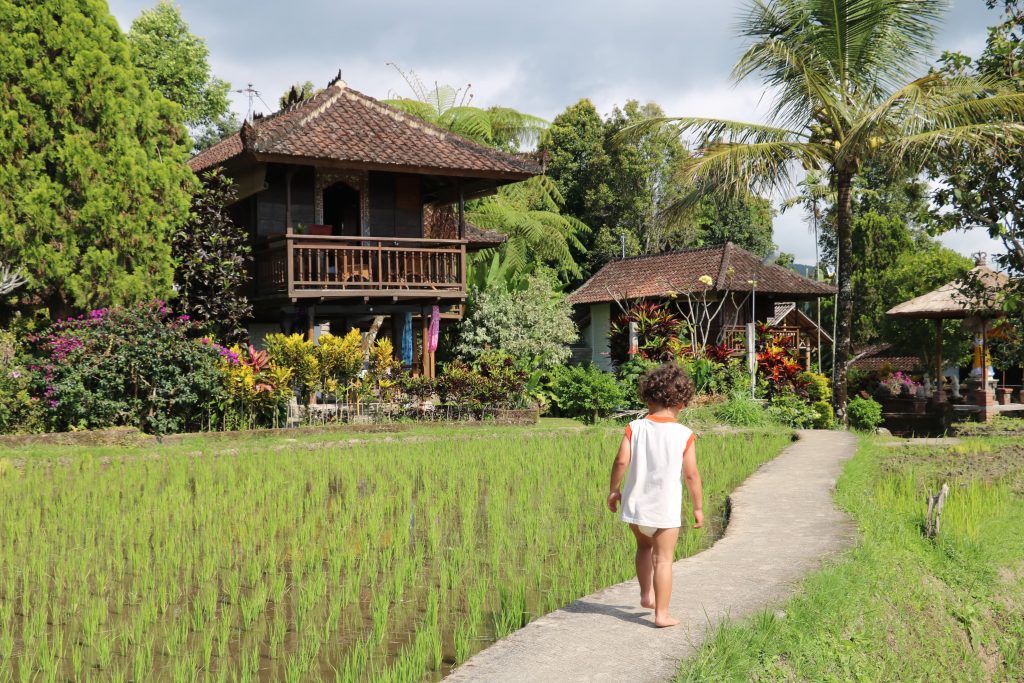 Bali is truly the island of the Gods; with beautiful tropical scenery and a captivating culture, there is so much to love about Bali. While Bali is an extremely popular destination for Australians, and sometimes can have a bad reputation for being over touristed, this is also what makes it a baby friendly destination. Plus, if you know where to look it is fairly easy to get away from the crowds in Bali and have an amazing holiday.
Bali is a baby friendly destination because it receives millions of foreign visitors each year, many of them vacationing as a family and with babies. You can get many of your favourite brands in the Bali shops, and there are even baby hire companies. You don't need to carry a cot, high chair or car seat from home because you can hire them in Bali.
To be truthful, babies don't need many activities or sights. They tend to be happy as long as they are with their loved ones (e.g. mum and dad), and in a similar routine as at home. Our bub loved to splash in the pool – and most Bali hotels have pools. There is a great range of Bali accommodation suitable for babies – from 5 star luxury right through to modest, rustic bungalows. What you choose will depend on your own ideas and budget. We've stayed at many baby friendly places in Bali, from the Westin Nusa Dua with its kids club and nannies to the much more relaxed Patra Jasa, which is one of our favourite Bali airport hotels.
If you are currently considering where your baby friendly option is, we cover many such questions in Bali vs Fiji for families.
You will find Bali cuisine is suitable for babies and toddlers. Food like roti (soft, fluffy flat bread), babi guling (tender, juicy roast pork), nasi goreng (fried rice), nasi ayam (chicken rice), and mie goreng (fried noodles), go down easy for babies and toddlers. For mums and dad, you should get a cup of teh tarik (milk tea). If you want to try something more unusual, give kopi luwak (one of the world's most expensive coffees made from the droppings of a wild cat-like animal called the luwak or palm civet) a go.
You can definitely travel with a baby around the world, particularly in Asia. You may also want to spoil yourself and travel in luxury. It is possible to enjoy the luxe life at a low cost.