Disclaimer: This post may contain affiliate links, which means we may receive a commission, at no extra cost to you, if you make a purchase through a link. As an Amazon Associate I earn from qualifying purchases. Please see our full disclaimer for further information. If not otherwise stated, all prices are intended in US$.
Choosing a cheap nursery glider can be difficult. The more you spend on an item, the better quality it usually is. But what if you're not sure how to choose a budget nursery glider? What should you look for in terms of quality and price? Amy, from Amy Baby Review and mum of three kids, shares her tips to help make your decision easier!
Do I need a glider or rocking chair for my child's nursery?
You don't necessarily need a nursing chair or rocker for your nursery, but they can come in handy.
Nursing chairs let you rock back and forth during feedings, and this gentle movement is soothing to the baby (making it easier to get them back off to sleep). A comfortable rocker is also an ideal spot from which to nurse a child at night. Have a twin baby? Look into ideas on glider for twins.
What is the difference between a nursery glider and a rocking chair?
If you are looking for a nursing chair in your newborn child's nursery, you may be deciding between two options: rocking chairs and gliders.
A traditional rocking chair features two curved bands at the base, while a glider has an immovable frame with a comfortable seat on top to let you glide back and forth. Rockers can be used as normal chairs, but not with babies or toddlers because they don't provide enough support for the child's head when sitting upright. The nursery gliders are designed for parents to sit in while holding their baby in the rocking motion. 
It can be helpful to visit a store that carries both rocking chairs and gliders for testing out different styles in person.
How much does a nursery glider cost?
Nursery gliders are typically more expensive than rocking chairs. Depending on the style and quality, nursery gliders can cost between $50 and $680 depending on if it is made with hardwood frames or has upholstery. See Amy Baby Review for glider reviews.
Tips for choosing a budget nursery glider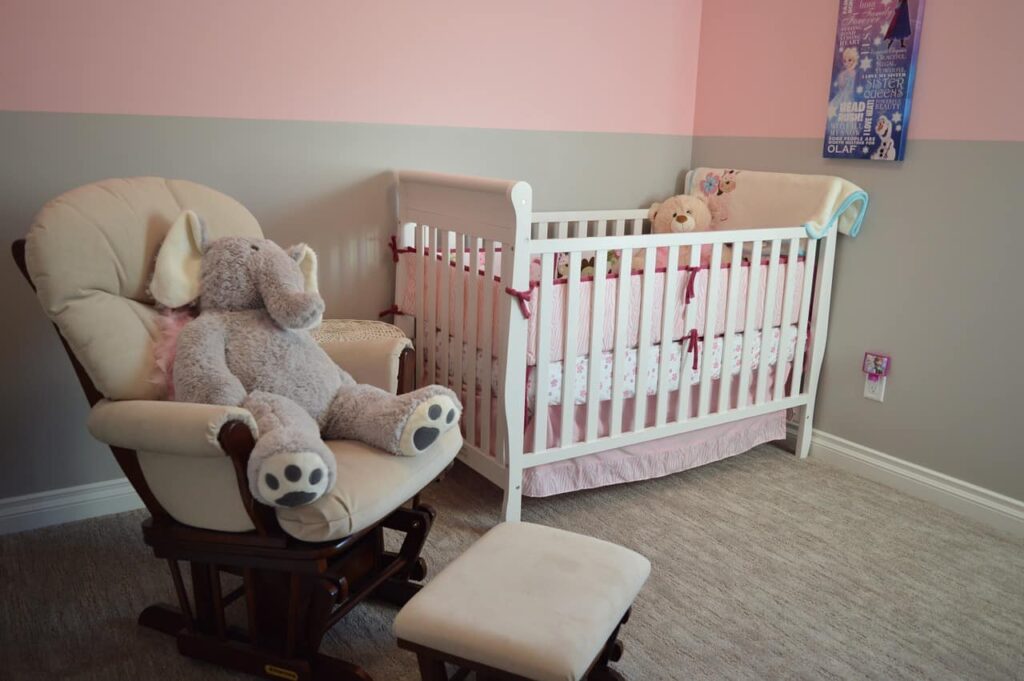 Picking a glider for your nursery can be stressful, especially when you're on a tight budget. There are so many different models to choose from, and there is no set price range because it all depends on the features you want. These tips will help guide you through the process of choosing a budget glider.
Price
You should know upfront how much you have to spend before looking at any other factors. This way, you can make sure that none of the options exceed your desired budget. Budget gliders typically range in cost between $50-$150 depending on the size and features included in the model.
Supportive cushioning
Ensure the glider is comfortable without being too soft. A cushion that's too hard would be uncomfortable, and a cushion that's too soft wouldn't provide adequate support for your back or bottom. The right amount of supportive cushioning can also help prevent strain on joints, which means it'll keep you safer in the long run!
Comfy but firm seat
The seat needs to have just the right amount of give, so you can lean back and get comfy without having your bottom sink in too far. This will provide a more relaxing experience for both mummy and baby while nursing!
Longevity
Ensure any glider you choose is durable enough to last throughout the years, which means it's important to find one with a strong frame made from wood or metal – especially if there are older children who might be using it as well.
Safety
Always remember safety first when purchasing an item like this because we don't want anything happening during those precious moments with our babies! Check all joints and screws very closely for any signs of fraying or cracking before purchasing.
Wide seat
A wide seat is perfect for those looking to use the nursery glider as a chair. A wider seat will make it easier to sit on and feel comfortable when you need to take care of your little one during feeding time or just want to cuddle up with them in the rocking mode.
Durable fabric
Durable fabric is essential to the life of your nursery glider. One mistake you don't want to make is buying a cheaper model with cheap-looking fabric that won't hold up when put through its paces during regular use.
Locking mechanism
Your nursery glider should have a locking mechanism so you can use it as a chair.
Bonus features
What are some of the bonus features to look out for? A footrest is an excellent option if you're looking for more support and comfort while sitting in your glider. If there's something you need or want, be sure to check the specifications and see if it's available.
Best cheap nursery gliders
The wrap up
A lot of people have been asking about what to look for when they're in the market for a nursery glider. We put together this list with top picks and helpful tips that should help you find one perfect for your space, budget, and needs! 
Let's start by talking about dimensions. The first thing you'll want to think about is how big your room is – do you need something small, so it doesn't take up too much space? Or are there other considerations like having multiple kids or pets who might be sharing the chair?
Next, we suggest looking at fabric colour options and any extra features like storage compartments or cup holders. And finally, price point – most new parents usually prefer not spending more than $200 on an armchair, especially if it's just going to be used for a little while. You definitely won't find any high-end designer pieces in this price range. 
We've taken the time to round up five of our favourites that are not only affordable, but will also look great in your nursery or kid's room!
Author Bio
Amy A. Vincent is a working mum blessed with three beautiful kids. She runs the Amy Baby Review blog, where she provides valuable parenting resources, and review kid's necessary products. You can connect with her on Facebook, Instagram, Twitter and Pinterest.